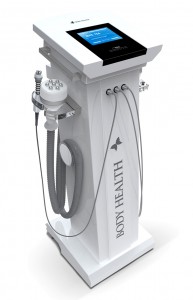 BHS 156 FULL is a modern machine used to perform cavitation, lifts, and needleless mesotherapy; it was developed by Argentine company Body Health Group.
The equipment has obtained the following international quality certifications: ISO 9001:2000, ISO 13485, CE and FDA.
The BHS 156 FULL is a multifunctional machine that brings together several unique, modern machine-based cosmetological methods:
Ultrasound cavitation
Cryo-RF lift
Electroporation
Ultrasound cavitation
The main technique offered by the BHS 156 FULL is high-frequency cavitation (2.7 MHz), which is a safer and more effective figure correction method than its low-frequency alternative (from 35 to 80 kHz). This kind of ultrasound lipolysis guarantees that the ultrasound waves achieve deep, targeted penetration (up to max. 3cm), as well as more even action, which runs along the entire plane of the handpiece and is not limited to the ultrasound focuser, as is the case in low-frequency cavitation. This action prompts the dissolution of fat cells and the accompanying crowding out of the intercellular space.
As a result, high-frequency cavitation treatment causes fat deposits to disappear two times faster than they do after low-frequency cavitation. Furthermore, high-frequency cavitation guarantees safe, effective, long-lasting results.
Cryo-RF lift
Cryo-RF lift – a unique new method
The latest development from Body Health Group (Argentina), the BHS 156 full apparatus, allows medical cosmetology centres to perform a totally new procedure, Cryo-RF lifting. This method is a combination of deep heating and cooling of the skin (down to -10ºC) by radio frequencies to activate various rejuvenation processes. This mix of external cold sensations and high internal temperatures induces thermal shock and instantly tightens the skin to make it firm and elastic.
Electroporation
Mesotherapy without the needles
This technology is a marriage of electroporation and electrophoresis.
An electric current of short, high-voltage impulses increases the permeability of cell membranes and transforms the phospholipid layers to temporarily generate electropores in the cells. Cosmetic, healing formulas can then be inserted into these electropores; electrophoresis enhances the process by allowing the preparation to penetrate the deeper layers of the skin to saturate and moisturize them.
Electroporation is a completely safe and non-traumatic method. It leaves no trace on the outer surface of the skin.