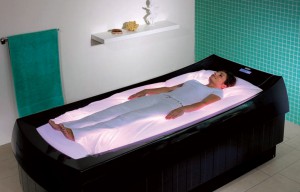 This method is meant to give the patient the feeling that he or she is floating as one might in the sea or a pool. The dry floating SPA procedure submerges the body in water without bringing the two into direct contact. A thin waterproof membrane secured to the water chamber conforms to the body without interfering with submersion.
The Thermo-Spa Concerto (Germany) programme is used as part of relaxation and cosmetic procedures or in conjunction with warm wraps.
The Aqua-Jet option offers a massage from the hips to the shoulders, rendered using 20 jet stream nozzles.