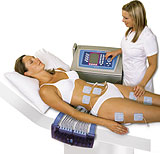 The Futura Pro machine (United Kingdom) was created to carry out soft biostimulation procedures, meaning it offers almost no unwanted side effects.
Its on-board processor allows the doctor to create an individualised treatment programme for each client.
It has more than 150,000 programme options, over 1,000 microcurrent therapy options, and 30 ultrasound rejuvenation programmes in its arsenal.