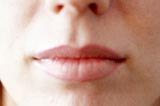 Lip correction is currently the most popular procedure we offer.
As we age, the lips experience various changes—they lose elasticity and plumpness, the corners begin to drop, their positioning can change, and suture-like wrinkles appear.
Beyond purely aesthetic indications, lip contouring is appropriate for correcting asymmetrical lips, lips that have defects or have suffered trauma, and vertical age-related wrinkles.
We fully support our clients' desires to have beautiful, smooth, full lips, but procedures must be done with consideration for each person's individual facial characteristics and natural beauty, and good judgment must be used.
Methods for lip shape correction and lip size augmentation:
Permanent makeup
Juvederm Volbella