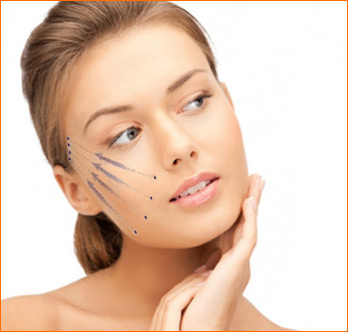 The invention of a mesothread dermal reinforcement technique has truly proven to be a revolution in the fight against signs of ageing.
This new method came from South Korea and is based on Eastern medicinal practice.
The reinforcement procedure equipment includes the mesothreads themselves and a guide-needle for the injection. The thread is attached to the end of the needle, which is used to insert it into the tissue. The threads fortify the skin's foundation, acting as a framework. After 6-9 months, they dissolve completely, but the elasticity that has been created will last another 2-2.5 years, thanks to the soft 'neocollagenesis' (collagen replacement).
The threads can also be effective on the body—for example, on the inner thighs, forearms, stomach, and buttocks.
Using this procedure in conjunction with other rejuvenating techniques can significantly increase their anti-ageing effects.
The mesothreads are made of polydiaxanone, a soluble stitching material that has been used for many years in cardiovascular surgeries, which speaks to how safe it is.
Tissue zones that can be modeled using mesothreads:
Face
drooping eyebrows
nasolabial folds, or smile lines
frown lines
'crow's feet' around the eyes
sagging skin, loss of firmness
sagging jowls
'age rings' on the neck
wrinkles in the upper torso region
asymmetry after plastic surgery
Body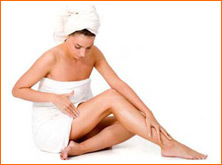 loose skin on the stomach
'drooping' buttocks
loose skin on the back of the hands
the area above the knee
cellulite
unevenness following liposuction
The three generations of mesothreads:
First-generation 3D mesothreads – soluble lineal synthetic threads made of polydiaxanone coated with polyglycolic acid and attached to injection needles, which can support different thread lengths (Queen and Miracu 3D mesothreads).
2nd-generation 3D mesothreads – SCREW and TWIN. These threads are thicker, more complex, and more solid than lineal threads. Therefore, their skin-lifting effect is more powerful.
3rd-generation 3D mesothreads – these utilize a monofilament polydiaxanone thread that has unidirectional grooves and notches. Thanks to this innovation, the threads fix the tissues in a single direction, preventing them from sliding downwards.
The multifunctionality of 3D mesothreads allows them to be used as a safe non-operative means of lifting the face. They can be used on patients of many different ages and for a wide range of conditions.
Advantages of mesothreads:
immediate effect
short rehabilitation period
100% biocompatible with the skin
compatible with other procedures